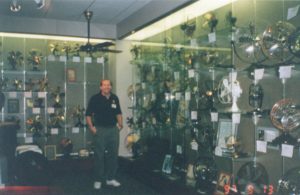 First of all, people are astounded at this list of American fan companies.  Probably, most people only think of more common fans like General Electric and Emerson.
Consequently, there are many companies who tried their hand at electric fan manufacturing. As a result, some companies made it and others are short lived. Finally, when air conditioning enters the scene, electric fan companies evaporated.
In conclusion, the following is an alphabetized list of American electric fan companies who, at one time, produce these beautiful works of art. In addition, some of these fan companies produce fans for only a couple of years. As a result, this adds to their scarcity and desirability.
Air Castle
American Electric Fan Co.
Arctic Aire
Barber-Colman
Bersted Mfg. Co.
Breezer
Carleton Company
Century
Colonial / Peerless
Command Air
C&C / Crocker-Wheeler
Dayton
Delco
Diehl
Dominion
Eck Dynamo & Motor Company
Edgar Ward
Edison Mfg. Co.
Emerson, -1930 (96)
Emerson, 1930+ (58)
E.S. Greeley & Co,
Fidelity Electric Co.
Fort Wayne Electric
Fresh'nd-Aire
Galvin Electric Mfg. Co.
Graybar
General Electric, -1920 (70)
General Electric, 1920+ (51)
Gilbert
Guth
Hamilton Beach,
HandyBreeze
Holtzer-Cabot
Hunter
Jandus/Adams-Bagnall
Kenmore
KMC
Knapp Monarch
Kord
Kwikway,
Lasko
Lieb Machine Works
Lionel
LeJohn
Manhattan Elec. Supply Co
Manning Bowman
Marathon Electric
Marietta Mfg Co.,
Menominee
Mimar
Mimms
Montgomery Ward
Nelson
Paragon / G.I.
Pryne & Company
Racine
Robbins & Myers
Roto Beam
Sampson
Scott & Janney
Shedd Electric
Signal
Singer
Sprague Electric
Star Fan & Motor Works
StarRite / Fitzgerald
Towle Mfg. Co.
Victor
Vornado
W.E. Coleman Deflector
Wagner
Western Electric
Westinghouse
Ziegler
Zephyr Airkooler
Finally, that completes my list of American electric fan companies from a to z.  Most of all, can you believe how many companies produced electric fans? In addition, there are European electric fan manufacturing companies that I did not list. Hence, fans from Europe compose another list, but is not the focus of my collection.
Therefore, if you come across any additional oddball American fan companies that are not listed, you should contact the Antique Fan Collectors Association .  As a result, they can add your discovery to their archives,  and therefore, benefits everybody!
Old Electric Fans 1990 – 2022 © Schannep Ventures L.L.C. ALL RIGHTS RESERVED